The first moment you hear the word fintech, you might think about the complex mechanism that holds tons of graphs with green and red figures. Well, you are not entirely wrong, but it does not just represent that. A simple application like the one you use for online payment, such as Apple Pay or PayPal is known as a Fintech Application as well.
Importance of Fintech app development for the Finance Industry
Starting from enhancing our day-to-day payment modes to helping us to keep the track of the trading market; the fintech mobile application plays an important role in our day-to-day lives. According to the report generated by EY, 65% of the total US population is dependent on Fintech solutions whether it could be for payments to get personal loan agreements. While the US ranks 2nd with a 65% fintech adoption rate, in the list of top countries with the highest fintech adoption rate, China ranks first with a 90% fintech adoption rate.
The stats clearly show, there is no point in discussing whether Fintech app development is important for the finance industry rather it shows it is necessary for the finance industry. A business belonging to the finance industry should step up its game with the adoption of fintech trends to get the growth of the business they have anticipated.
Even with this higher adoption rate, having a fintech mobile app is not as easy as it sounds. To get started, first thing first, the Fintech app development is much more complex than it sounds. But the struggle begins with the very first step when you have to choose the type of Fintech mobile app. The fintech mobile app should help you to enhance your ROI and deliver an outstanding user experience to your target audience. As there are tons of options to choose from let's discuss the top Fintech mobile app type of the year 2023.
Types of Fintech Apps
1) Digital Banking
Starting with the basic one, digital banking is one of the most common types of Fintech mobile apps. A fintech mobile app development for digital banking solution will help users to minimize the efforts they have to put up with every single time they visit the physical bank. The account holder should be able to perform every task such as fund transactions, balance checks, transaction statement generation, account opening process and many more through a single mobile application.
As it will hold an entire bank account of all the users, it is important to offer top-notch security features to the mobile application. You can ask the app developer to add the biometrics functionality to the mobile application that demands fingerprint authentication every single time the user wants to access the mobile application.
2) Digital Payment Mobile Apps
The introduction of digital payment mobile apps can enhance the cashless industry. It will help the users to transfer money from one to another hassle-free. Along with offering an online payment mode, it can work as an e-wallet as well. Offering an entire account through a single fintech mobile application, you can also integrate the feature that allows users to perform foreign transactions and even access their digital currency as well.
You can hire app developers that can enrich your mobile application by offering various transaction modes such as QR scanner transactions, Nearby share, universal payment identification code transactions and many more. It will allow the users to pay and receive the amount directly in their bank account.
3) Investment Mobile Apps
Following the red and green figures, graphs and more of the stocks is one of the most simple yet tricky ways of investment. The investment mobile application will help the users to remove the middleman and mediators and allow them to manage their stocks on their own. To make your Fintech mobile app unique you can allow the user to invest in ETF, cryptocurrency and more along with trade stocks.
Keep in mind, the fintech mobile application development for investment follows a complex coding algorithm. Along with reflecting the market moment in real-time, it should display the data, and graphs with at most accuracy. On top of that, it should offer the utmost user data security as the mobile application will have user banking details along with their investment account details. To make your Fintech mobile application more browsable and user-friendly, you can launch a learning community that offers an investment guide and tips to the users according to the market situation.
4) Loan Lending Mobile Apps
All of us out there have dealt with the pain of getting loan approvals and handling the process, and we know it's a nightmare. A loan lending mobile application can help users to get loan approvals and manage their interaction with lenders or borrowers in an effortless manner. Along with enhancing the brick-mortar way of the loan process, it can also help the users to manage the interest rate risk in an effective manner.
Such mobile apps are utilized by both autonomous advanced loan specialists/borrowers (P2P) and customary finance organizations to loan cash and procure revenue. These fintech apps oversee everything about loans, from credit apps to an entire loan payment process. It is not a bad idea to invest in a fintech mobile app that is useful for landers, and borrowers to finance organizations.
5) Insurance Mobile App Apps
Starting from travel insurance, vehicle insurance, and health insurance to life insurance, there are tons of insurance we deal with throughout our lives. An insurance mobile app can be the perfect solution that helps users to speed up the policy administration process to claim process while minimizing the chances of fraud.
Along with offering a top-notch user experience, it can also offer accurate insurance quotes customized for the users based on their requirements eliminating the need for the middleman.
6) Regtech Apps
Last but not least, A subset of Fintech, the Regtech application is one of the innovative application types that can bridge the gap between business and regulators with a tech solution. This type of fintech application helps the business to build a better market reputation while being updated with regulatory compliance changes.
The Regtech app development can also allow users to automate their KYC, AML and various other compliance policies with the usage of AI and ML functionalities. Various apps such as regulatory reporting solutions, risk management solutions, identity management solutions, transaction monitoring solutions and many more are known as Regtech apps.
Even though you have finalized the type of fintech app you want to build, there is still a long way to go. There are so many things you have to consider before you reach out to any app development company with your development requirements.
Things to Keep in Mind Before Considering Fintech App Development
First thing first, fintech has been around us for a while now. If you are considering leveling up your service offering through fintech app development there are things that you have to think through before making your final move.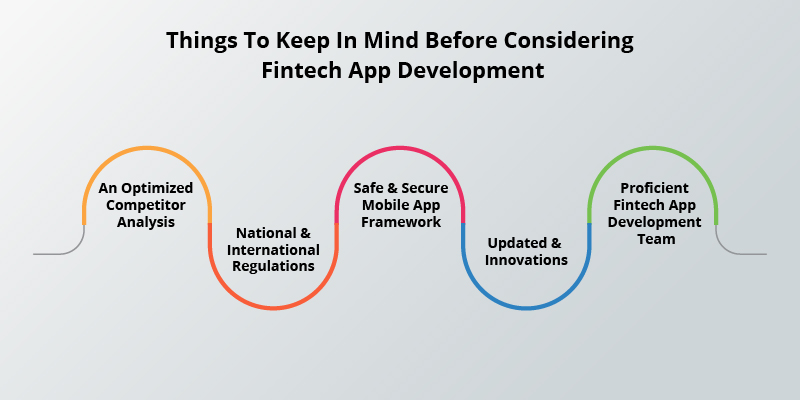 An Optimized Competitor Analysis
A Fintech app is not a unique idea, there are tons out there and even you might be using one of those as of now. But you can still stand out from the crowd offering a unique service like none other. All you have to do is focus on your competitor analysis, find the loopholes of their offering and offer the fintech mobile application that solves the actual problem of the target audience base and covers the loopholes of your competitors. A competitor analysis can make or break your fintech application.
National and International Regulations
Finance regulations are one of those things that no one should mess with. Regulations have been set up to defend the finance system from misuse. Fintech application development demands intensive knowledge about current innovation, security standards and regulations considering both national and international standards. So, make sure your fintech mobile application offers an amazing user experience and follows every one of the regulation laws while keeping the app framework safe and secure from data theft attacks.
Safe & Secure Mobile App Framework
Asking users to download another e-commerce application is way too easy than convincing them to download a simple transaction-based fintech app. The reason behind it is trust issues. Being the most ideal source to access user data, fintech mobile apps are turning into an ideal objective for cybercriminals. A fintech mobile application with loose up security ends is like a winning chicken dinner playing against noob for cybercriminals. So, it is obvious that your users will feel dicey handing out their financial details if they won't get assurance that your fintech mobile application is safe and secure to interact with.
Updated & Innovations
We are living in the world of reels and trends where we forgot yesterday even before planning our tomorrow. So, if you want your fintech mobile application to be part of tomorrow, make sure you consider integrating the technologies and innovation of tomorrow so that your fintech mobile application can stay in use and even in the trend for a long time. But, the work is not done yet. You will have to keep your mobile application updated with every finance and technological trend and innovation. Even though you won't see any major changes in the finance world; your fintech mobile application should balance the fast pace innovations of the technological world.
Proficient Fintech App Development Team
As mentioned above multiple times, fintech app development is not as simple as other mobile app development. Along with owning mobile app development knowledge, the mobile app development team should have knowledge and experience in the finance industry as well. Fintech app development also demands a thorough understanding and knowledge of the latest tech trends in finance and the technological world. So, if you are considering developing a fintech mobile application make sure to hire app developers with the utmost proficiency in working with finance and the technological world. As an add on make sure to be in touch with the legal professionals as well.
Top Features to Include in Fintech Apps
Any mobile application that offers top-notch features tends to offer an exclusive user experience. If you are trying to turn your Fintech mobile app idea into a working application; here is a list of some of the top Fintech app development features you should consider including in your mobile application.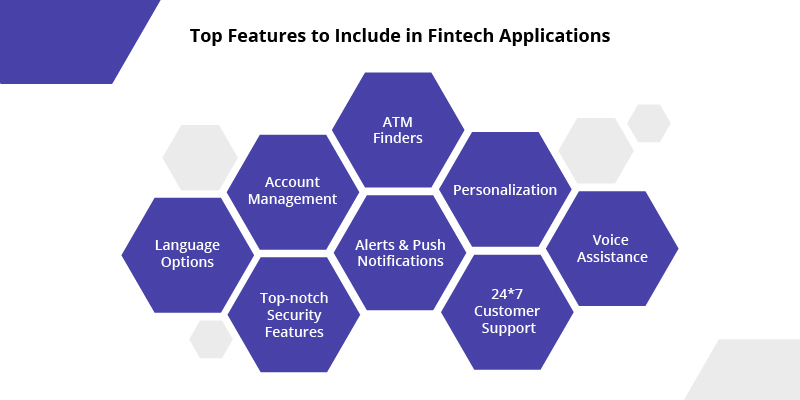 Language Options
When it comes to language options, fintech apps should provide users with a choice of languages. This allows users from all over the world to use the app in their preferred language. A choice of language is one of the top features of the Fintech mobile application that will only enhance the user experience but will also help to expand your target audience. Offering your users a chance to choose their preferred language will make it more accessible and more convenient for them to use your mobile application. Along with that, offering a language to choose that your users feel comfortable browsing from, will make your users feel more valuable and have a sense of inclusion.
Account Management
No matter which type of fintech mobile application you are offering; basic account management features are a must to include. By offering admittance to account data and management functionalities such as checking account statements, account balances, making the transaction, and many more; you can assist them with keeping steady over their funds and making informed financial decisions. These functionalities permit clients to deal with their funds actually and keep steady over their financial well-being. They likewise assist clients with making informed choices about their cash and how to best utilize it.
ATM Finders
Another amazing fintech app feature that you can include in your mobile application is ATM Finder. You can hire dedicated app developers that will help you include this feature with the integration of GPS location. It will help the users to find nearby ATMs based on their location. ATM finders are significant in light of multiple factors. To start with, they assist clients with getting their money rapidly and without any problem. Second, they advance accommodation by permitting clients to find ATMs near them. Third, they advance well-being by permitting clients to keep away from perilous or new regions.
Alerts and Push Notifications
Numerous fintech apps depend on alarms and push notifications to keep users informed about their account activities. These alerts and push notifications can be utilized to inform clients about account movements, new advancements or arrangements, changes to the fintech app features and many more.
Along with these, push notifications are a significant method to keep users engaged with the application and guarantee that they are exploiting all the application brings to the table. They additionally help to remind users about significant finance tasks, such as covering bills or planning.
Personalization
According to proficient app developers, personalization is key to success for any mobile app development project. But when it comes to fintech mobile apps, it is a necessity. The users need to have the option to utilize the application in a manner that is agreeable and helpful for them. When it comes to your fintech mobile application, you can hire app developers that can make it possible through user profile customization, finance goal management customization, push notification customization and many more that can keep the user interaction intact and fruitful in any manner possible. This implies that fintech apps should be adaptable and customizable to address the issues of every individual user.
24*7 Customer Support
Even with having the best possible and proficient app development team, tons of fintech mobile app users face glitches and problems that demand interaction with a reliable person and that can happen to your mobile app as well.
Rather than keeping your entire team hooked up for customer support, hire app developers that hold proficiency in integrating tech stacks such as AI to build AI-based chatbots. Along with AI-based chatbots, you can offer customer support through Email, Phone and even on-site customer support based on their convenience.
Top-notch Security Features
User data security is nothing more or less than a necessity of any fintech mobile application. So, make sure you hire dedicated app developers that can not only offer top-notch features and functionality but can offer top-notch security features as well.
The app developers should be familiar with and experienced to work with enhanced technologies such as blockchain, IoT and many more that can offer enhanced password protection, encryption of data, and fraud protection.
Voice Assistance
Voice-assisted banking allows users to perform app tasks via voice commands. In digital banking and fintech, voice-assisted technology is an emerging trend. But everywhere else, it's pretty commonplace. Voice assistance not only helps to perform an app-based task but also helps to minimize the efforts of typing and browsing through the entire application to get the task done.
But when you integrate the voice assistance features in your fintech mobile application, make sure you hire app developers from a top app development company that holds proficiency and expertise in advanced technologies such as IoT integration and many more. Smart voice assistance additionally lessens the number of steps users need to accomplish for their financial errands. Voice-helped financial lifts your client maintenance by causing them to invest less screen energy with your application. It's amusing, yet it does some incredible things regardless!
Conclusion
Is this an end, of course not. There is much more left to talk about, but rather than bore you with all the technical knowledge we have, we would like to connect with you directly. If you have an app idea in mind you can connect with our app development team and discuss your app idea. You can even hire app developers after checking their app development proficiency on your own. Being a top app development company, we will make sure to deliver the solution nothing less than the best.