Nowadays, without online presence, it's hard to think of a successful business. Online presence is one of the best ways for the growth and success of any business. You need mobile apps, and other online platforms, no matter what type of business you are, in order to reach your potential customers and let them know about your products/services. Having a well-developed platform is a must if you want an increase in your revenue. Software Development is the umbrella under which all the other services stand. Let's know more about the benefits of software development.
Benefits Of Software Development
1. Helps promote your business- Software Development helps in making your business gain visibility, helps you gain audience and engage traffic in order to convert more sales.
2. Improves sales and services- It helps you know the opinion of your audience/customers so that you get to know what they actually need. This helps you improve the quality of your products/services which directly affects your sales and increase conversions.
3. Increases customer engagement- No other strategy helps better than online marketing when it comes to increasing your list of loyal customers. By launching campaigns, you can let your audience know about the values and morals that you stand by and thus, you can attract likeminded people as your potential customers.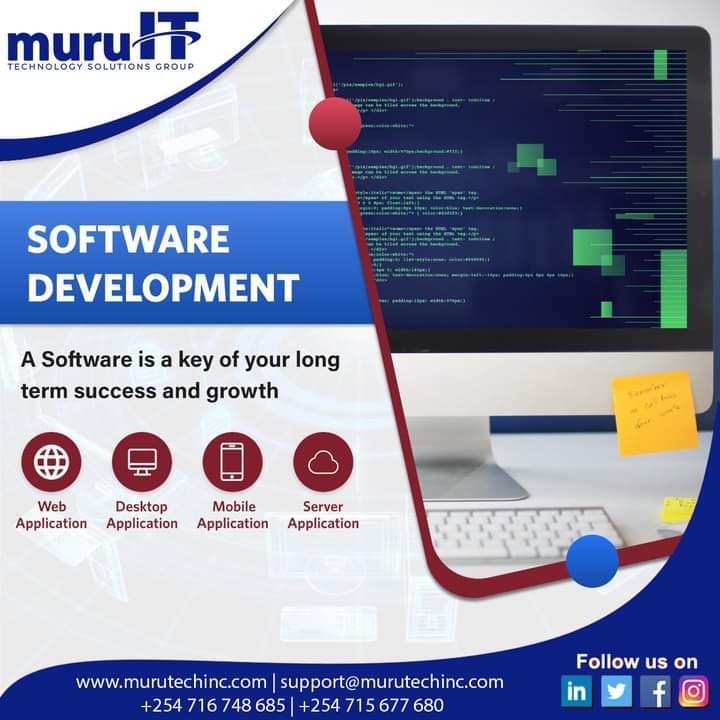 Where to start?
Outsourcing is a great way to get all the advantages of software development for people who don't know where to start. Muru Technologies is a Software Development Company in Kenya that transforms your business with innovative software applications designed and developed as per your needs. From product design and coding to testing, deployment and support, we take care of every stage of the development process. Moreover, outsourcing digital services can be one of the best decisions you take for the welfare of your business.
Hiring Muru Technologies will help you in the following ways-
· Offer a competitive edge with innovative digital solutions crafted for your business only.
· Help you save on the cost of hiring and selecting candidates with the required skills.
· You get a team of highly experienced and skilled developers and designers that provide you the technical support according to your requirements.
· You can focus more and invest more time on the core processes and activities of your business by outsourcing all your digital requirements from us.
Muru Technologies, as a Software Development Company, provides you with Customized Software Development, helps you to develop and implement an effective IT strategy, assist in smooth digital transformation and system integration, help you with the application development for your brand, as well as advise on improvements to your digital customer experience.