Having trouble planning routes for your drivers? As an administrator or dispatch manager, optimizing routes ensures your drivers take the most efficient path to their destinations. It will not only save you time, but it will also save you money by lowering your gasoline bills.
Fortunately, various route optimization software choices are now available on the market. However, you must select one that allows you to optimize routes efficiently, increase team productivity and customer experience, eliminate unnecessary delays, and make last-minute modifications.
The best and most effective route planner with several stops or management software significantly decreases drive time and boosts productivity. Because of this, it is rising in popularity on a global scale. The global market for delivery route optimization software, which was estimated at $4,325.40 million in 2020, is expected to reach $16.3 billion by 2030, rising at a CAGR of 14.2% from 2021 to 2030, as per Allied Market Research.
To increase delivery driver productivity and customer satisfaction, route optimization software arranges the stops a driver makes. Based on the limits and objectives of the company, the program generates more effective routes for a full fleet, supporting dispatchers by automating the formerly manual planning process. Route optimization software development is a surefire technique to boost your company's operational efficiency.
Many software development companies specialize in route optimization software development, providing tailored solutions to help businesses optimize their logistics and transportation operations. In this article, we'll discuss why route optimization software is important, as well as how to select the best route optimization software for your organization.
What is Route Optimization Software?
Route Optimization Software is a tool that facilitates the planning and improvement of transportation routes. To find the most effective route, it takes into account several variables, including time, distance, traffic, and vehicle capabilities. Businesses, delivery services, and individuals all utilize the program to increase productivity, cut expenses, and shorten trip distances.
A delivery route planner, the route optimization software supports a variety of enterprises, including fleets, home services, and field sales and marketing. It is a tool that aids in route management, improving the effectiveness of delivery and service operations.
To increase delivery driver productivity and customer satisfaction, route optimization software organizes the stops a driver makes along the way. Based on company constraints and objectives, the software generates more efficient routes for the entire fleet, supporting dispatchers by automating the previously manual planning process. If you want to get easy route software you need to hire software developers who are well-versed in route optimization software development. Many companies provide a wide range of software development services, including the expertise of dedicated developers for hire.
Best Software for Route Optimization in 2023
We've compiled a comprehensive reference to the finest route optimization tools. The software contained in our guide will not only aid in improved fleet administration, but advanced capabilities such as route optimization, real-time traffic updates, and GPS tracking will allow you to effortlessly control and monitor the movement of the fleets, including the drivers.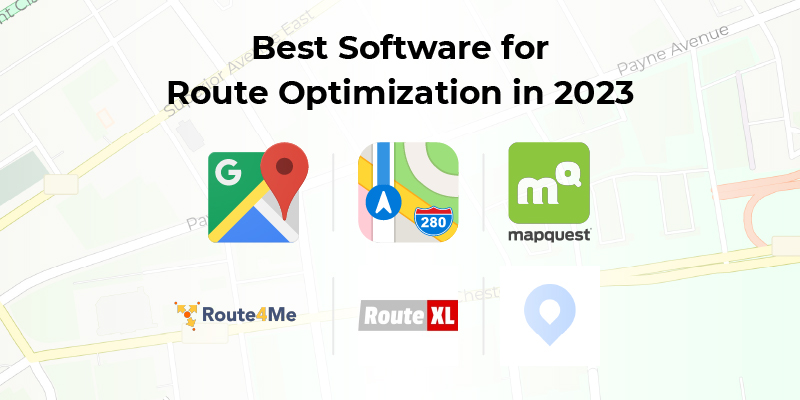 So, let's have a look at some of the top route optimization software for your business in 2023.
1) Google Maps
With the help of Google Maps, a well-liked route-optimization tool, users may simply arrange at least 10 stops for a single trip. It is well-equipped with real-time traffic updates, and its automated rerouting capability can assist the user in switching to a faster route.
Google Maps is a great tool for mapping out a people's route, but it is only able to provide some advice on how to manage delivery logistics for businesses.
Features of Google Maps
Discover the closest sights, natural marvels, and eateries with ease.
You may quickly and easily check the traffic in real-time and make plans to get there on time.
Users can quickly observe the current traffic conditions for particular places that are highlighted in red by using the live traffic cams.
By sharing your current location, you can keep your loved ones informed about where you are at all times.
Use the set route option feature to choose your preferred routes and discover how simple it is to avoid frequent tolls.
2) MapQuest
MapQuest can be an excellent choice when seeking the best free route optimization software. It provides an easy-to-use route planning system at no additional expense.
In contrast to its competitors, MapQuest aids in correct route optimization for motorists by allowing them to select between the shortest distance and the quickest route free of traffic. Adventure seekers, particularly hikers, and tourists, frequently use MapQuest.
Features of MapQuest
You will comprehend the routes more clearly thanks to the voice-guided narration, which will help you avoid uncertainty.
Using this filter, you may quickly and easily browse for points of interest you want to visit.
Real-time traffic reports might help you save time by directing you down less congested routes.
Gain insightful knowledge about your speed so you can easily and swiftly complete all of your orders.
3) Route4Me
Route4Me is an excellent option for huge businesses with difficult obstacles. There are add-ons available, such as curbside delivery and a weather option. Simply copy and paste or upload your delivery list, and within 10 seconds you will see how the route has been successfully optimized.
Additionally, consumers have reported that, on average, their travel time has decreased by 35%, which suggests that businesses can quickly lower their fuel expenses.
Features of Route4Me
Easily monitor your driver's behavior and keep track of their movements.
Examine the routes your driver is taking and inform them of any changes in traffic flow.
Save time by using Route4Me to quickly and easily optimize the routes.
You may adapt the program to your needs with add-ons like search and filter options.
4) Apple Maps
Apple Maps can be a perfect fit for you if you have an Apple device. They have a user-friendly layout that is both straightforward and dynamic, making them the ideal choice even for beginners.
Apple Maps gives its consumers a photogenic and modern style that makes it easier for them to see local locations. Apple Maps will give real-time directions directly to your Apple device, even if you are traveling with friends and family to make your trip more convenient.
Features of Apple Maps
Receive weather-related emergency alerts and real-time weather updates.
You can simply reach your destination and comprehend the fundamental directions with the aid of Siri-monitored guidance.
Any heavily traveled route will be highlighted in red, while less traveled or untraveled roads would be displayed in green.
Share your location and anticipated delivery time with your customers to keep them updated on the status of their deliveries.
5) Circuit
Businesses that must arrange a route with several stops can use circuit route optimization software. It aids in increasing delivery operations' efficiency. The circuit satisfies every requirement set out by the route optimization program. It makes use of sophisticated technology to optimize the sequence of your delivery route, saving you up to 25% in time and fuel. This technology combines updated current traffic conditions with updated map data plans.
Features of Circuit
Up to 1000 stops can be optimized
Decide on stop time windows
A first/last stop is set
Set the level of halt priority
Aids in determining the optimal way
6) RouteXL
RouteXL is a straightforward route optimization tool for small businesses and corporations to streamline business processes. Using a spreadsheet, the software allows users to add up to at least 20 stops.
Once all of your destinations have been uploaded, RouteXL will filter through all of the addresses and provide the shortest, most direct route.
Features of RouteXL
Using the sophisticated automated sorting address tool, quickly sort hundreds of addresses.
Keep track of the traffic situation and inform your drivers in real time of the current traffic conditions.
Distribute the responsibilities to all delivery agents fairly and evenly.
To prevent delivery failures, follow your driver's movements in real time and keep checking on their behaviors.
When you hire dedicated software developers, you can focus on your core business activities while leaving the development and maintenance of your software in experienced hands. To choose the right software development company, you should examine its track record of successful custom software development projects.
Advantages Of Using Route Optimization Software Development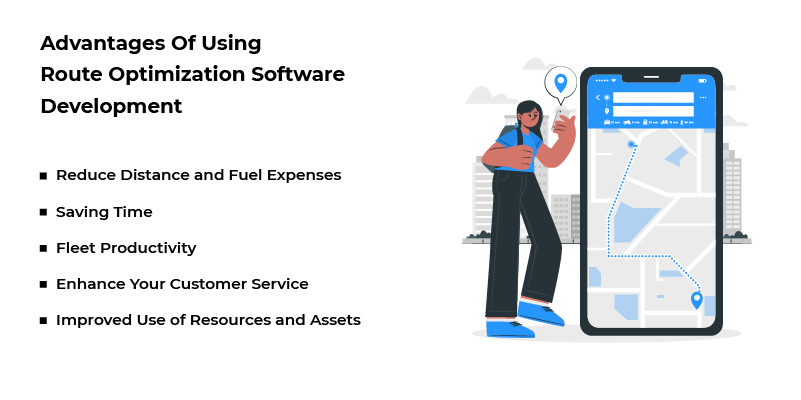 The usage of route optimization software has several benefits regardless of whether you offer goods or services, have your fleet, or work with an outside transportation business. Manual planning is extremely challenging because of rising quantities and rising consumer demands. The clever algorithms of route planning software produce the most effective solutions that enable transportation cost savings. There is also more.
Reduce Distance and Fuel Expenses
The fact that route planning software calculates paths to minimize km driven is probably its most evident benefit. Fuel expenditures are significantly decreased by good route planning software. Comparing modern route planning software to historical manual timetables, transportation costs are reduced by 10% to 25% on average.
There are hazards associated with route planning that relies on the expertise of some personnel. Let algorithms handle the maths so that planners can effectively use their time. Planners can concentrate on outliers or contrast data from actual driving and planned routes. As a result, they can assist in changing the software's settings to provide even better outcomes.
Only the trucks required for the day's delivery are selected by the planning software. You can significantly reduce fleet expenditures by increasing occupancy rates. You save money on maintenance expenses and you increase the lifespan of the used fleet since drivers go fewer kilometers.
Software for route planning not only assures optimal fleet effectiveness but also improves worker scheduling. You can also get a staff schedule that is as tight as a drum by taking into consideration legal driving and rest periods, excluding absent employees, arranging working hours by preferences, and assigning employees with the appropriate talents to the appropriate assignments.
Enhance Your Customer Service
The increasing rigor of consumer expectations and demands is nothing new. To provide even better service, planning software takes into consideration all of these consumers' needs. It is possible to postpone the order cutoff and define more exact delivery time windows. You consequently raise client satisfaction. Hire dedicated developers who deliver state-of-the-art solutions.
Improved Use of Resources and Assets
Organizations can utilize route planning software to make the best use of their assets and resources. This software system reduces the distance delivery drivers must travel by optimizing delivery routes, which can save fuel costs and alleviate vehicle wear & tear. Ensuring that the appropriate vehicle and driver are allocated to each delivery and that resources are used as efficiently as possible can help businesses schedule deliveries more successfully.
Businesses can employ effective route planning to find any bottlenecks or inefficiencies in their delivery process, enabling them to make changes that will increase the utilization of their resources and assets. When it comes to custom software development, it is essential to hire software developers who can deliver high-quality solutions. Software developers are well-versed in cutting-edge technologies and frameworks, enabling them to develop advanced and robust software solutions for businesses across various industries.
How To Choose a Route Optimization Software?
While route optimization is increasingly becoming a need, it is also crucial and necessary for businesses to make a sensible decision when selecting an enterprise route optimizer that is worth every penny.
The following functionalities of a great route optimization software must have:
Web-based Route Optimization
The best last-mile delivery software solutions, such as a delivery route planner or delivery routing software, are typically available via the web, allowing users to access the software directly from their browser via the website and log in directly to their account. In these situations, the delivery route planning software is typically subscription-based.
Any real-time delivery tracking program must have this setting since it eliminates the need for users to maintain, install, or update the software on their computers. Users can access their accounts, view their dashboards, begin route optimization, and begin saving money as soon as they subscribe.
Accommodates Several Routes and Vehicles
Every fleet that provides services like deliveries, pick-ups, and servicing calls tends to have a large number of cars when you are in the logistics or fleet management sector. Fleet managers would need to carefully design the route that would result in the quickest travel time in this scenario.
To help fleet managers and drivers choose the route with the least amount of waiting time while rerouting the originally planned route to complete a delivery, delivery route planner software offers visualization through mapping at the same time, in different colors, and generates multiple optimized routes.
Processing of Optimized Routes Quickly
In the pick-up, delivery, and service call industries, time is money. If they are not processed in real-time and quickly, delivery management software features like routes or multi-stops are useless. It is crucial that processing is real-time and quick since fleet managers and drivers must deal with services in real time. By optimizing the results, the worst consequences can be avoided.
The ideal delivery management system and route optimization software should be able to process an optimized route in a matter of seconds. Such a delivery management system is useless if it takes a few minutes to determine the best route for each request.
Utilizes Recent Mapping Data
Getting the wrong driving instructions to a delivery or service location is never fun. Additionally, it is a blow to the effort and money invested in the particular unsuccessful delivery. Make sure the delivery management system software you choose makes use of the most recent mapping data.
Otherwise, following the ideal path can be perplexing since logistics companies or riders may find it tedious to manually input data each time they arrive at a site or when the wrong directions are displayed. To avoid the time and effort of updating items, real-time and current data mapping is crucial. Software developers are passionate about their craft and stay updated with the latest software development trends and advancements in the software development field.
Closing Thought
Route optimization can significantly increase the general effectiveness of logistics and transportation. With the development of technology, there is an endless supply of route optimization software, both free and paid, created for companies to simply simplify their workflows. Regardless of the program you use, using thorough route optimization software will help you optimize your business processes while cutting expenses and raising customer satisfaction.
As a custom software development company, we provide top-notch software development services. If you have any queries regarding route optimization software development, feel free to contact Muru Technologies. Moreover, you may hire dedicated developers who help to develop feature-rich and scalable software development solutions.