In today's world, there is a significant demand for mobile banking and finance services, and the insurance sector is no exception. As the industry pivots towards mobile-first technologies, creating a high-quality, comprehensive insurance app has become an excellent concept. Building such an app can offer many benefits, including meeting the needs of today's customers who prefer mobile solutions.
Statistics indicate that there is currently a considerable demand for insurance applications, making it a smart move for business owners to consider developing such an app. If you want to develop an Insurance application you can hire app developers from top app development companies. This guide will provide a comprehensive overview of the key features, benefits, costs, and other essential information related to creating a revenue-generating insurance application.
Why Does Insurance Company Need To Develop Mobile App?
There are several reasons why insurance companies should consider developing mobile applications to meet the changing needs of their customers. Here are several most effective reasons:
A well-developed insurance application can provide customers with a more convenient and efficient way to manage their policies, file claims, and monitor the status of their claims.
Mobile applications allow customers to access their policies and claims at any time and from anywhere, making it easier for them to stay updated and informed.
Developing an application can be a cost-effective way for insurance companies to reduce operational expenses by automating processes and streamlining customer service.
The insurance industry is highly competitive, and having an application can give insurance companies an advantage by providing a modern and user-friendly interface to their customers.
By developing an application, insurance companies can collect valuable data that can be used to personalize offerings, better understand customer needs, and tailor products to specific customer segments.
Mobile applications enable customers to customize their coverage based on their individual needs and adjust factors like deductibles and coverage limits that fit within their budget.
Developing a mobile application can provide many benefits for insurance companies, from enhancing the customer experience and increasing accessibility to gaining a competitive edge and collecting valuable data for better decision-making.
How Does an Insurance Application Work?
The insurance application offers users a digital platform to handle their insurance policies and claims. Utilizing mobile applications improves the process by making it more efficient and user-friendly.
To begin utilizing an insurance application, the primary step involves setting up an account and providing essential information, such as your name, contact information, and address.
After completing the initial setup, users can access the insurance application to manage their policies. The application allows customers to tailor their coverage to meet their specific requirements by modifying factors like deductibles and coverage limits to fit within their budget.
With the application, users can directly manage their policies, submit premium payments, update personal information, and monitor filed claims. This functionality proves particularly useful in times of emergency medical assistance.
Insurance mobile applications enable users to file claims, which may involve submitting forms, documents, photographs, bills, and more. The app provides real-time tracking of the claim's progress and allows users to raise queries when necessary. In summary, insurance applications provide a simple and convenient method to manage insurance policies and claims, promoting efficiency and user-friendliness. Ultimately, both policyholders and insurance providers stand to benefit from this digital platform.
Types of Insurance Apps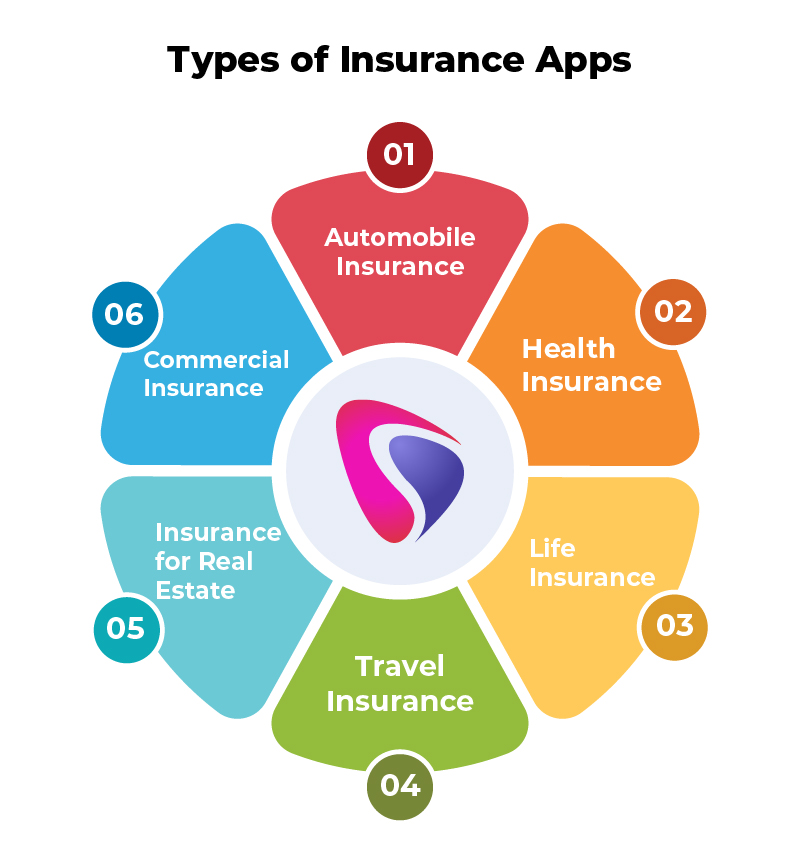 Automobile Insurance
Car insurance apps provide services for car owners to manage their insurance policies, file claims, track progress, and connect with customer service. Some car insurance apps also use telematics technology to monitor driving behavior and offer discounts based on safe driving habits.
Health Insurance
Health insurance apps provide access to health and wellness services, such as telemedicine consultations, appointment scheduling, prescription management, and claim submission. They also offer personalized health recommendations, such as nutrition and exercise advice.
Life Insurance
Life insurance apps allow users to manage their policies, pay premiums, and file claims. They also provide access to financial planning tools, such as calculators for retirement savings and life insurance coverage.
Travel Insurance
Travel insurance apps offer services such as trip cancellation coverage, medical coverage, and emergency assistance services. They also provide access to travel-related information, such as flight status, travel advisories, and weather updates.
Insurance for Real Estate
Property insurance apps provide services for homeowners to manage their insurance policies and file claims related to damages to their property. They also offer home security and maintenance tips to help prevent future damage.
Commercial Insurance
Business insurance apps offer services such as liability coverage, workers' compensation insurance, and property insurance for businesses. They also provide risk management advice and claims management tools to help businesses protect their assets and employees.
Insurance apps are designed to provide convenient and accessible solutions for managing policies, filing claims, and accessing services. The type of insurance app required depends on the specific needs and requirements of the user or business. From car insurance and health insurance to life insurance, travel insurance, property insurance, and business insurance, there are several options available to meet the diverse needs of insurance customers.
Also Check: Insurance Management System
Advanced Features of an Insurance Application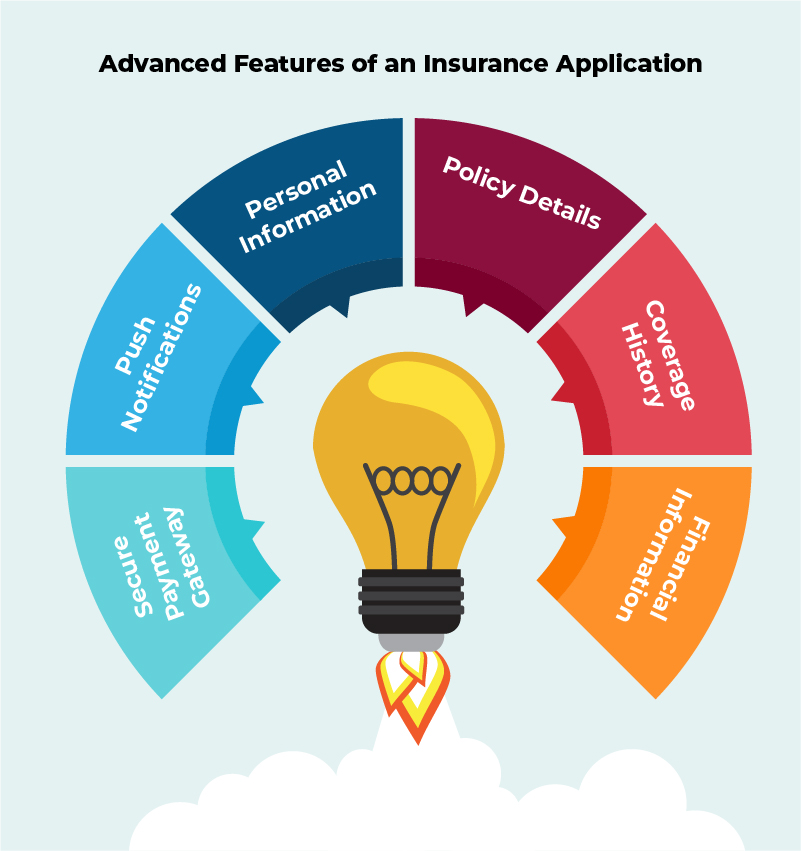 An insurance application is a document that individuals or businesses complete to apply for an insurance policy. The application provides the insurance company with information about the applicant's personal and financial circumstances, and the details of the policy they are seeking. Here are some of the features of an insurance application:
Personal Information
The application will ask for personal information such as name, address, phone number, email address, date of birth, and Social Security number. This information is used to identify the applicant and to perform background checks.
Policy Details
The application will ask for details about the type of insurance policy the applicant is seeking. This may include the coverage amount, the deductible, the policy period, and any additional coverage options the applicant may want.
Coverage History
The application may also ask for information about the applicant's coverage history, including any prior insurance policies they have had, and any claims they have filed.
Financial Information
The application will ask for financial information, such as income, assets, and liabilities. This information is used to determine the applicant's ability to pay premiums and to assess the risk of insuring the applicant.
Secure Payment Gateway
A secure payment gateway is essential for insurance apps to allow users to make payments for their policies and premiums. It should be user-friendly, fast, and secure to ensure a smooth payment experience.
Push Notifications
Push notifications can be used to keep users updated about policy renewals, payment deadlines, claim status updates, and other important information related to their insurance policies.
Approximate Cost to Develop a Feature-rich Insurance App
Creating a feature-rich insurance app necessitates a substantial commitment in terms of time, resources, and experience. The cost of producing such an app is determined by several aspects, including the platform, the number and complexity of features, the size of the team, and the development location.
To estimate the cost, assume a basic insurance app with common functionality like user registration, policy administration, and claims processing. The cost of creating such an app for a single platform (iOS or Android) can range between $50,000 to $150,000.
If the app must be developed for two platforms, the cost might reach $300,000. The cost will also be determined by the development team's location.
Including advanced features like artificial intelligence-based risk assessment, personalized insurance recommendations, and chatbots for customer service can raise the cost of app development by $50,000 to $100,000.
In addition, annual maintenance, updates, and support expenditures should be included, which might amount to 20-30% of the initial app development cost.
Depending on the extent of the project, location, and other features, the cost of designing a feature-rich insurance app might range from $50,000 to $300,000. To assure the quality and effectiveness of the end product, it is critical to engage with a recognized development team that has expertise in producing similar apps.
Conclusion
In conclusion, the development of an insurance app can revolutionize the insurance industry, making it more convenient and accessible to customers. With its user-friendly interface, customizable features, and real-time updates, an insurance app can provide customers with a seamless experience, simplifying the insurance buying process and ensuring that their policies are always up-to-date.
By leveraging the latest technologies like AI and machine learning, insurance companies can offer personalized recommendations, streamline claims processing, and even predict potential risks, all while saving time and costs.
As a reputable app development company, we specialize in creating advanced and feature-rich applications. Our team of experts is well-equipped to assist you in building a top-notch application that meets your specific requirements.
Investing in an insurance app can provide insurance companies with a competitive edge in a crowded market and help them meet the evolving needs and expectations of customers. So, if you're an insurance company looking to stay ahead of the curve, consider developing an insurance app today!