ERP and businesses are something that goes hand in hand to enhance the offering of the businesses. To bring more revolutionary results with minimum efforts businesses belonging to different sectors are turning towards cloud-based ERP systems that can help them boost productivity and streamline operations in a more enhanced manner. But stepping into the world of cloud ERP is not as simple as it sounds.
So, here we are becoming your rescuer to walk you through all the important considerations of the cloud ERP starting from what Cloud ERP is to how to choose the right partner and everything in between. To give you a start, one of the most important things about cloud ERP is the software development company you choose to work with. No matter how small or big your business can be, you should never comprise when you choose to hire dedicated software developers for your custom ERP software solution development. They will help you make an informed decision and choose the right cloud ERP solution to take your business to the next level.
What is Cloud ERP?
Enterprise resource planning, or cloud ERP, is a category of company management software that may be used online from a remote server. There are various ways you can access the ERP software which include but are not limited to a web browser or mobile app or just installing it on a local server or computer, and browsing it from anywhere with a stable internet connection.
You must be wondering how cloud ERP can be different from conventional on-premise ERP software, right? Among all the extraordinary benefits, let's look at some most obvious ones. For starters, since users do not need to invest in pricey hardware or IT infrastructure, they may be more cost-effective. Furthermore, because cloud ERP solutions are so scalable and adaptable, firms can quickly change their functionality and capacity to meet changing needs.
Using a cloud ERP solution for your company has many advantages. One advantage is that it might be significantly less expensive than conventional on-premise ERP software because you won't have to spend money on pricey hardware purchases or regular maintenance and upgrades. As your business needs change, you can effortlessly add or delete users, applications, and services thanks to cloud ERP solutions' excellent scalability and flexibility.
Cloud ERP software can help various s there are various functions it can efficiently perform including finance, human resources, procurement, sales, inventory management, and more. Additionally, the software can be altered to meet certain corporate demands, with features and modules made to fit particular needs. Along with all this, cloud ERP solutions can make real-time visibility possible, which gives firms a more simplified and effective approach to managing their operations.
You might have got an idea of how important it is to choose the right service provider for your custom cloud ERP solution for your business. The experience and expertise to deliver top-notch ERP solutions are one of the top filters you should check for to find the most reliable software development company. To find the right custom software development company there are a few things you must consider. The first and foremost thing you should consider is to finalize your unique business demands and look for the right development company to hire software developers that can fulfill these demands.
In the process, you might find some of the pre-build cloud ERP solutions. If you want to go for the pre-build ones; examine elements like usability, functionality, security, and system integration while comparing various cloud ERP solutions. Whether you choose to go for the pre-built one or custom cloud ERP solutions choose to go for a system with user-friendly interfaces, clear documentation, and ease of use. Third-party tools integration is one of the other things that you should look for. Your cloud ERP software should be able to communicate and connect well with your already existing software and workflows. Along with working well, the enhancements of the current working flows should be considered as add-on benefits. Last but not least, the ability to offer security compliances for your business offering is one of the things you should not miss.
There is no doubt in knowing that a cloud ERP system can help you streamline every existing sector of your business, but it can defeat the fact that it is crucial to find the perfect one just by looking at it. Thus you need to hire dedicated software developers with relevant industry experience that can help you build the perfect cloud ERP solution understanding every bit of your requirements. You will be well on your way to success in the cloud if you have the correct solution in place.
Key Benefits of Integrating Cloud ERP System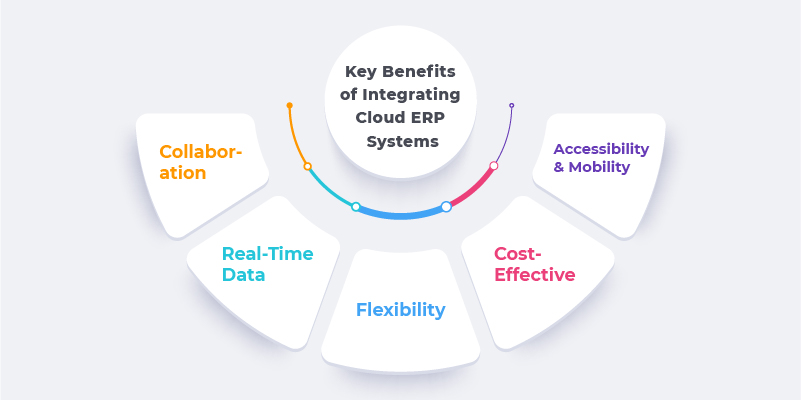 Enterprise resource planning (ERP) systems have revolutionized the way businesses operate, helping them streamline operations and increase efficiency. Cloud ERP systems, which are based on cloud computing, offer even more advantages over traditional on-premises ERP systems. We will now discuss the benefits businesses can get through cloud ERP system integration.
Accessibility and Mobility
The nature of cloud ERP to allow remote access itself offers benefits to businesses. The integration of the cloud ERP allows businesses to access their system and software from anywhere, anytime demanding just a stable internet connection. It allows businesses to be more flexible and adopt the agile approach allowing employees to access their systems and software from remote places and be efficient towards their work responsibilities.
Cloud ERP is more cost-effective than traditional on-premise ERP systems. When a traditional ERP system demands more investment in terms of hardware, software, system maintenance, and various other things; cloud ERP will allow easy access on any device with minimum subscription plans. When a traditional ERP solution demands a designated IT staff to operate and maintain and support the ERP solution; cloud ERP almost brings down these cost expenses to none making it more efficient and affordable for almost every business out there.
Need more customization for your ERP solution that can work perfectly well with your business? Cloud ERP solutions can take care of it. You can customize your cloud ERP integrating all the important features and functionalities based on your business requirements. When implementing traditional ERP turns out to be more time-consuming and expensive; cloud ERP can help your team to be most efficient and productive allowing them to access the system based on their roles.
One of the other benefits any business can have through cloud ERP is access to real-time data. With traditional ERP solutions, employees need to enter, upload, export, and import the data manually, which they can update at a significant time only. Cloud ERP has resolved this issue minimizing the manual data entry work and making data available in real-time. The top management can access the data in real-time which can help them to make informed decisions in real-time only.
If you are an enterprise-level business or any business with more branches and offices in different locations, owning a cloud ERP solution can work as a boon for you. Where traditional ERP solution offers less remote access offering and minimizes the chances of collaboration; cloud ERP supports remote accessibility allowing different departments, branches, and offices to work together effectively. Cloud ERP development allows your business to work on various tasks, exchange important data and make informed decisions in a more efficient, accurate, and collaborative manner.
This section effectively proves that cloud ERP offers more benefits compared to traditional ones. From enhanced scalability to top-notch security, there are various other benefits the cloud ERP system can offer. If you want your business to enhance its offering and be more competitive in this rapidly changing business environment. Now you know how beneficial cloud ERP is for your business, let's take a look at how you can find the best ERP software solutions for your business.
Key Factors to Choosing the Right Cloud ERP for Businesses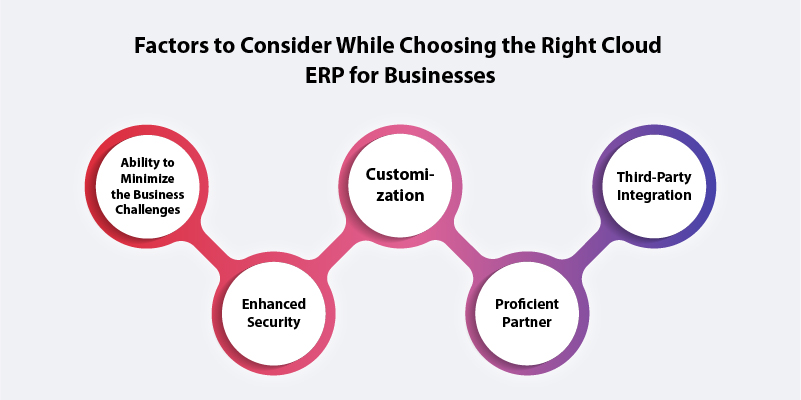 The importance and usage of cloud ERP is growing rapidly recently. It is helping businesses to enhance their offering and advancing the success of any business. But, it all depends on the right software development company and its offering to your business requirements.
The first and most important success factor when choosing a cloud ERP system is its functionality. The ERP software development company you choose should be able to meet your organization's unique business needs. Businesses should look for a cloud ERP solution that provides all the modules they need for their business processes.
Ability to Minimize the Business Challenges
Cloud ERP systems must scale up or down to meet changing business needs. This is especially important for businesses of all industries as it helps them to resolve the flaws they were facing while helping them to enhance their offering streamlining their business operations all at once. if you feel your cloud ERP solution is failing to minimize the business challenges then it's about time you find a software development company and go ahead with the redevelopment of your existing ERP solutions to get better outcomes.
Not all ERP systems are beneficial for all the businesses out there. Different businesses demand different features and functionalities. So it is important that your cloud ERP systems are flexible and allow customization of workflows based on different business processes. This allows companies to tailor the system to their specific needs and ensure alignment with business objectives. If it feels like there is no ERP solution exist that fits all your business requirements, you can always hire a dedicated software developer to own a custom cloud ERP solution.
Traditional or even a cloud ERP solution should be able to work well with third-party solutions that help to enhance the offering of business solutions. Get a cloud ERP software solution that allows third-party integration for a simple data management system to an entire e-commerce platform and more. It should allow businesses to get enhanced accessibility to business data while making them more perfect than ever.
Businesses must ensure their cloud ERP systems have robust security features to protect their data. This includes encryption, access control, and regular security audits. Cloud ERP systems are characterized by high availability and minimal downtime. This ensures that business is not interrupted by system failures.
When it comes to finding the ERP software developers there are tons of ways you can find the software development company to get the ERP software. But what matters the most is the reliable one. You can filter the development company based on experience and expertise to deliver the cloud-based ERP solution. You can ask for their working portfolio for your industry.  When you pick the right software solution one of the few things that you can expect is functionality, scalability, customizability, integration, security, and reliability of the cloud ERP solutions. If you are not sure where you should start, you can hire software developers from Hyperlink InfoSystem to get the solution enriched with various features and functionalities.
Closing Thought
To summarize, the perfect cloud ERP software solution to perfectly describe your unique ERP software development solution. To make sure you get the best in class ERP solution, you should finalize the business requirements, choose the right cloud ERP solution, and find the software development company the one that best suits your needs. Cloud ERP solutions can help you streamline business operations, improve productivity, and reduce costs. Therefore, it's important to invest in the right ERP solution that fits your business goals.
If you are not sure what you should do, just reach out to the team of Muru Technologies and we will help you out. Throughout more than a decade of experience, we have developed and delivered tons of custom solutions for various businesses belonging to different industries. Contact us to hire software developers and develop a cloud-based ERP system that will transform your business operations.